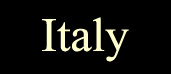 A line of specialty architectural, decorative materials and furniture all
"Made in Italy"
Brought to you through expert artisans using the finest base materials and design methods that Italian culture demands.
For the designer, architect or homeowner who wants authentic, unique finishes and furnishings, we have collected the best of Italy and made it available through Arte Antiqua.
For more information on any of the products you see on our links please contact us.
A presto!
.
Arte Antiqua
Phone / Fax (813) 330-9298
info@arteantiqua.com
---
COPYRIGHT © 2005-2019 ARTEANTIQUA , LLC.